WNSW PHN's Reconciliation Action Plan
"By acknowledging, listening, accepting and learning to support one another; together we will improve Aboriginal health outcomes in the Western NSW Primary Health Network region."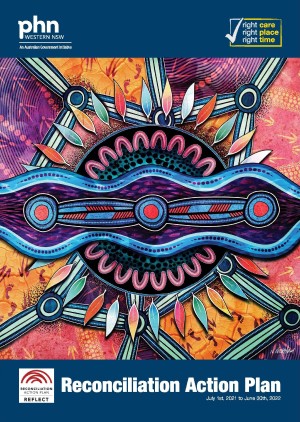 WNSW PHN has launched its first Reconciliation Action Plan (RAP) under the guidance of Reconciliation Australia.  
Embedding Aboriginal health is a guiding principle for the work we do at the WNSW PHN, and so reconciliation is so very important to help us to make meaningful gains in the health and wellbeing of Aboriginal people across our region. We look forward to sharing more information with you as we continue on our journey of reconciliation together. 
This RAP is a pledge from WNSW PHN to continue to build and nurture relationships, demonstrate respect for and increase awareness of Aboriginal and Torres Strait Islander cultures, and provide opportunities for Aboriginal and Torres Strait Islander people, organisations, and communities in true partnership. 
WNSW PHN is strategically focused on improving health outcomes for Aboriginal and Torres Strait Islander people living and connected to our region and plays a leadership role in transitioning the primary health care system through the development of culturally safe and aware models of care, ensuring access to quality health care and commissioned services.
WNSW PHN recognises Aboriginal people as the original inhabitants of Australia and as the Traditional Custodians of the land. We encourage and promote a culture of diversity within our workforce. To continue to improve the way we work with Aboriginal communities, we encourage recruitment of local Aboriginal and Torres Strait Islander people within the region to add their voice to achieve health goals and priorities for our communities.
We acknowledge that we work on the traditional lands of many Aboriginal clans, tribes, and nations. We commit to working in collaboration with our region's Aboriginal communities and peoples to improve their health, emotional and social well-being in the spirit of partnership.
WNSW PHN would also like to extend its heartfelt gratitude to our many partner organisations, stakeholders and members of the community that contributed to the development of our first RAP and we hope you will continue to support us on this journey.
See the highlights of the WNSW PHN RAP Launch Activities of December 8, 9 and 10, 2021 in Dubbo, Orange and Bathurst here: